Sewing Stockings for Soldiers
We have the opportunity to help the community in making 200 Christmas Stockings and 200 Handmade Christmas Cards for the Forgotten Soldiers Organization. They will be stuffing Christmas Cards inside them.
We encourage you to do them at home, with your children, or with fellow
sisters and neighbors to spread the joy of serving others. :)

Final Collection on Sunday, November 27, 2011.
The stockings are going to be 9 3/4 " tall by 5 1/2" wide at top and 8 1/4 " wide on the foot, give or take some. These dimensions are the size before sewing them.
Please make cards so they can fit inside stockings.
Let me know if you're able to help, and we'll look forward to your creations!
Happy Sewing!

Below is a sample of how to make a stocking. It is just a suggestion...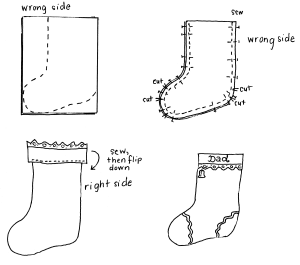 If you need it... here is an Actual Pattern below. You'll need to print out at 100%. Tape together on line. Then trace on an open manilla file folder or heavy duty card stock. It's larger than an 8 1/2 x 11 page.
Ideas for some cards below:
Remember, to only include first name of children. NO LAST NAMES.
You can also click on this image below to print out larger:
Click on the image below to enlarge.
Print on 8 1/2 x 11 paper, and fold in half. Write a message inside.
Click on image below to enlarge.
Print on 8 1/2 x 11, cut out & fold.
You can paste paper on the outside or design how you like.
These are great starters to a card. Be sure to make it as personal as possible, as it may be the only card this soldier receives this year.